Simple, Straightforward, and Powerful Capture Software
PaperStream Capture Pro is a powerful front-end capture software that integrates seamlessly with Fujitsu Scanners and PaperStream IP Drivers.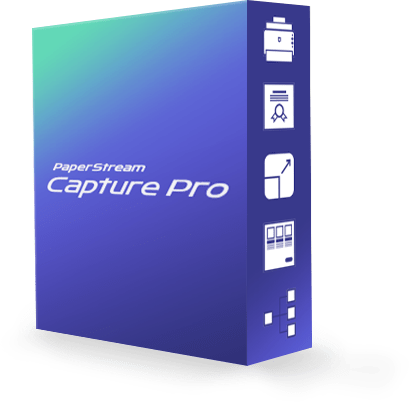 PaperStream Capture Pro is optimised for Fujitsu Imaging Technology
A seamless integration with all Fujitsu Scanner Hardware and Drivers
Unlock greater efficiency from your Fujitsu Scanner Hardware and PaperStream IP Drivers.

We're transparent about our licensing and fixed costings
You'll never get caught out with any unexpected fees
We're transparent about the cost of our software. The cost of PaperStream Capture Pro does not increase when your scan volume increases. No matter how many millions of documents you scan, your fee remains the same.
You'll never pay a penny to upgrade your software
All of our major version upgrades (v1.x/ v2.x/ v2.x/ v3.x) are included in our Annual Software Maintenance at no additional costs, including our Local Language Software Support and Revision updates.

We're ready to scale up when you are
PaperStream Capture Pro is a professional capture solution which grows with your business
Our natural upgrade path (PaperStream Capture to PaperStream Capture Pro) eliminates any expansion complications down the line.
We understand that every business has their own way of working, which is why PaperStream Capture 2 has built-in flexibility, so you can choose how you'd like to work.
The Single User and Single Workstation configuration allows a single user to perform all roles: Scan, QC & Index on a single workstation.
With the Multi User and Multi-Workstation configuration, users can be assigned separate roles of Scan, QC and Index (up to 7 users/workstations).

A powerful and intuitive user experience
Our easy-to-use UI functions do the heavy lifting for you
The wizard-based configuration and organised structure of scanning profiles, means you'll spend less time setting up and more time scanning documents.
After Scan Correction (ASC) and Advanced Image Quality Checking (AIQC) enable you to work smarter. These advanced time-saving features eliminate the need for batch rescans while maintaining a high scanning rate of images per hour.
All document integrity is maintained through extensive document and batch separation methods using barcodes, zonal OCR, patch codes, and blank page identification.
The PaperStream Image Enhancement technology is not just exclusive to Fujitsu devices, our file import function can upload images captured by other branded scanners and MFP's too.
The software supports up to 20 Meta-data fields including Rubber-band, choice lists, database lookup, plus field & character validation.
PaperStream Capture Pro is designed with integration in mind

PaperStream Capture Pro is designed with integration in mind
The front-end capture software is easy to integrate with your storage functions. Integrate with remote folders, SharePoint, Box, and other third-party services for a seamless scanning experience.